---
March 27 – April 30, 2021
SuperWomen: Conversations with Real Action Figures
https://www.cfmdc.tv/works/superwomen-conversations-with-the-real-action-figures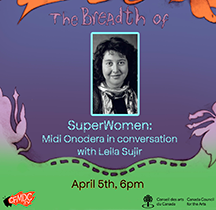 Leila Sujir's work will be highlighted during this event:
6pm – 8pm EST Monday April 5 Film: "Dreams of the Night Cleaners" (limited period)
8pm EST Monday April 5 LEILA SUJIR INTERVIEW– available during the month of April
---
Wednesday, December 9th, 2020
Practices of Projection: Histories and Technologies – Book Launch
Book launch: Practices of Projection: Histories and Technologies (eds. Gabriel Menotti and Virginia Crisp)
The Department of Culture, Media and Creative Industries at King's College London has the pleasure of hosting a launch of the collection published by the Oxford University Press on Wednesday 9th December 2020.
To many, the technological aspects of projection often go unnoticed, only brought to attention during moments of crisis or malfunction. For example, when a movie theatre projector falters, the audience suddenly looks toward the back of the theatre to see a sign of mechanical failure. The history of cinema similarly shows that the attention to projection has been most focused when the whole medium is hanging in suspension. During Hollywood's economic consolidation in the '30s, projection defined the ways that sync-sound technologies could be deployed within the medium. Most recently, the digitization of cinema repeated this process as technology was reworked to facilitate mobility. These examples show how projection continually speaks to the rearrangement of media technology. Projection, therefore, needs to be examined as a pivotal element in the future of visual media's technological transition.
In Practices of Projection: Histories and Technologies, volume editors Gabriel Menotti and Virginia Crisp address the cultural and technological significance of projection. Throughout the volume, chapters reiterate that projection cannot, and must not, be reduced to its cinematic functions alone. Borrowing media theorist Siegfried Zielinksi's definition, Menotti and Crisp refer to projection as the "heterogeneous array of artefacts, technical systems, and particularly visual praxes of experimentation and of culture." From this, readers can understand the performative character of the moving image and the labour of the different actors involved in the utterance of the film text. Projection is not the same everywhere, nor equal all the time. Its systems are in permanent interaction with environmental circumstances, neighbouring structures, local cultures, and social economies. Thus the idea of projection as a universal, fully autonomous operation cannot hold. Each occurrence of projection adds nuance to a wider understanding of film screening technologies.
Speakers
Gabriel Menotti (Lecturer in Film Editing & Multimedia, Federal University of Espírito Santo) and Virginia Crisp (Lecturer in Cultural & Creative Industries, King's College London) and other contributors, including Leila Sujir, PI and Director of Elastic Spaces.
---
Wednesday, November 11th, 2020
LASER 9 Forest Drawings Close
LASER 9 Hexagram Montréal
Co-Chairs Nina Czegledy and Gisèle Trudel
Tiohtià:ke | Montreal
Free online video conferencing via Hexagram's YouTube Channel or directly on Hexagram's Interdisciplinary Summit  Web platform.
In English
Free
With
David Howes (Professor, Department of Sociology and Anthropology, Concordia University, Adjunct Professor, Faculty of Law, McGill University, Montreal ; Hexagram Research member)
Jehová Lourenço Jr (Universidade Federal do Espirito Santo, Brazil ; Postdoctoral Fellow, Centre d'étude de la forêt, UQAM)
Jorge Zavagno (Masters candidate, Studio Arts Department, Concordia University)
Leila Sujir (Professor, Studio Arts Department, Concordia University)
This edition of the LASER series proposes to build on current artistic, anthropological, architectural and scientific research about forest ecosystems for enriching discussions about biodiversity and creativity. Forest agencies of humans and more-than-humans point to manifold affordances, combining their inner and outer workings to inhabit convergent worlds. The speakers will discuss the following topics : visualizing respect and memory of old-growth forests with high-definition video and stereoscopic technologies (Sujir and Zavagno), deciphering the inner network of tree sap flow functions with 3D microscopic imagery in periods of drought (Lourenço) as well as recent trends in architectural designs in Finland pointing to the resurgence of wood, a qualitative housing endeavour to kindle the senses (Howes).
Through the interplay of sensing bodies and technologies, Forests Drawing Close will be an encounter with conditions of proximity about tree relations, up close and afar.
This LASER edition is presented in the context of Hexagram's 1st Interdisciplinary Summit Web Platform entitled Sympoietics : The Sharing of Agency and Autonomy. (https://rencontres.hexagram.ca/).
Invading Forests
David Howes will discuss the implications of Finnish architect Juhanni Pallasmaa's work – most notably The Eyes of the Skin: Architecture and the Senses (1996) – for the recent re-valorization, by architects and designers, of wood as a building material (formerly dismissed as a fire hazard and constructions made of it deemed "vernacular"). For a long time, humanity sought to domesticate or "manage" forests. Might this new trend in wooden architecture be a sign of forests drawing closer and sylvanizing us? This presentation complements Howes' essay on Whole-Body Sensing: Encountering the Forest with Henry David Thoreau on Hexagram's Sympoïétiques Web platform.
Hydraulic Architecture of Trees: Adjusting to Survive in a Changing World
Jehová Lourenço Jr will present the use of novel approaches such as laser microscopy for 3D imaging of cell structures and trait-based ecology in understanding how trees adjust their hydraulic architecture to cope with environmental constraints through time. Recent studies conducted with Jack Pine trees on cell-level adjustments and their effects on the safety and efficiency of water transport allow us to understand the outstanding growth performance of this species and its ability to withstand drought.
Walking in 3D Stereoscopic Forest Spaces (2016-ongoing)
Leila Sujir and Jorge Zavagno will talk about the development of a series of video projects focusing on the old-growth forests, collaboration with the community in their practice, and the possibilities brought by considering walking rather than seated viewers. The monumental scale of the video projections and the "elastic depth" of the 3D images render the work immersive, integrating the spectators' corporal movements into its reception.
BIOS
David Howes is a Professor of Anthropology at Concordia University, and an Adjunct Professor in the Faculty of Law at McGill University, Montreal. His teaching and research span many disciplines, including anthropology, art, law, architecture and marketing. He is a forceful proponent of the comparative method. David is a research member of Hexagram and he is currently directing a project entitled Explorations in Sensory Design.
Jehová Lourenço Jr is a Brazilian plant ecologist with expertise in the Atlantic rainforest ecosystem. His work and research provide new insights into how environmental change influences forest functioning. He is a Postdoctoral Research Fellow at the Centre d'étude de la forêt at UQAM. He was recently awarded a Newton International Fellowship by the British Royal Society.
Jorge Zavagno is a Concordia INDI Masters candidate in Intermedia Practices whose research focuses on the use of 3D and 360 video to encapsulate and narrate the decision-making processes of documentary filmmakers. With over ten years of experience as a post-production supervisor for documentary films, Jorge is part of the Elastic Spaces research group at Concordia as the technical director.
Leila Sujir is an artist, Associate Professor in Intermedia and Chair of the Studio Arts Department at Concordia University. Over the last thirty years, she has been building a body of video/video installation artworks exploring immigration, migration, nation and culture. Sujir is a founding member of Hexagram. Her works have been shown at the Museum of Modern Art in New York City and the Tate Gallery in England.
Presentation partners :  Médiane Canada Research Chair in the arts, ecotechnologies of practice and climate change and Hexagram Network.
—
Image: Old-growth production shoot Forest! with artist director Leila Sujir (left) and cinematographer Christian Kroitor (right), Big Lonely Doug location near Port Renfrew, June 2016. Photo : Christian Kroitor. Used with permission.
---
November 9, 2019 – February 17, 2020 at the Art Gallery of Alberta.:
"Rebellious: Alberta Women Artists in the 1980s"
Leila Sujir will be a part of this exhibition featuring the works of strong Alberta women artists of the 1980s, who significantly contributed to the contemporary landscape of Alberta art.
Organized by the Art Gallery of Alberta. Curated by Lindsey Sharman.
https://www.youraga.ca/exhibitions/rebellious
---
Saturday, September 21, 6:30−9pm.
Garden in the Machine Artists in Conversation & Opening Reception at the Surrey Art Gallery.
Surrey Art Gallery is located in the Surrey Arts Centre
13750 88 Avenue
Surrey, BC Canada V3W 3L1
1 block east of King George Boulevard in Bear Creek Park
Join us on Saturday to celebrate the opening of our fall exhibition Garden in the Machine. This group show by leading digital artists in Canada marks 20 years of digital art programming in the Gallery's internationally recognized TechLab. A conversation with artists Faisal Anwar, Leila Sujir, and Robert Youds will start at 6:30pm, moderated by curator Jordan Strom. Reception follows at 7:30pm with a performance by media artist Leonard J Paul. Free admission.
Upon walking into the exhibition, you'll see a photographic series, installation, and interactive media artworks that explore the complex relationship between nature and technology. Transformation, mutation, growth, and destruction are central themes that run through the six large-scale works on display. The very limits of the digital and its relationships to nature are of primary concern to the presenting artists.
In Data Mulch, photographer Helma Sawatzky connects the act of composting to the excess, waste, and decay marking our contemporary digital condition. Sustainable food production, among other themes related to nature and the environment, appears in Faisal Anwar's video project CharBagh. An algorithm transforms photos on Instagram contributed by Surrey residents into ornate geometric designs modelled on Islamic gardens. These photos respond to four questions: What are the images that symbolize your relationship to nature?  What are the images that share your relationship to food sustainability? What are the images that capture the current moment of climate change? What are images that represent better sustainable practices?
Robert Youds also uses computer software to translate photos of a more local public garden, Butchart Gardens in Victoria, into coloured light sequences playing off an elaborate sculpture of aluminum panels, sawhorses, and desk lamps in For Everyone a Fountain. Get interactive with a VR installation called Unceded Territories by Lawrence Paul Yuxweluptun and Paisley Smith! Put on a pair of goggles to move through Yuxweluptun's painted landscapes and experience the impact of your movements on the environment. Finally, spend time reflecting on the beauty of old-growth forests in front of Leila Sujir's ethereal video Forest Breath. This artwork portrays a dense section of woodland on Canada's West Coast under threat of deforestation.
Also on view is a group exhibit of nature paintings in our lobby by Artswest Society titled The Nature of Things.
---
Announcement in Canadian Art: Touring project of commissioned Imax shorts May 23, 2019. This tour includes Leila Sujir's work entitled Aerial (2019) .
---
"The Dreams of the Night Cleaners (1995)" Screening Thursday, May 9, 2019
This work screened at the Doxa festival in Vancouver, in the program "Longing and Belonging, 1990s South Asian Film and Video | DOXA Documentary Film Festival"  with essay below by Zool Suleman, editor of Rungh magazine.
Essay:
---
Launched May 3, 2019 and now available:
---
"Aerial" screening at Images Festival, April 18th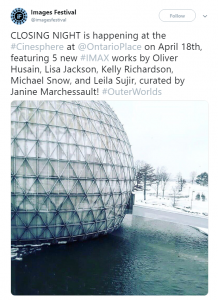 A large format video art commission experimenting with IMAX technologies that will be shown in IMAX theaters throughout 2019-2020, along with the work of four other artists, as part of the XL, Outer Worlds exhibition, starting in Toronto April 18, 2019 at Cinesphere, as the closing night of the Images Festival. Images festival runs from April 11-18, 2019 (https://www.imagesfestival.com/)
Details about the Images closing night screening and party:
---
Exhibition Review, April 13, 2018:
with commentary by Molly Glentzer,  "Four of FotoFest's dazzling displays focus on Indian portraiture," Houston Chronicle (April 13, 2018).
"Peacocks Dream"
https://www.houstonchronicle.com/entertainment/arts-theater/article/Four-of-FotoFest-s-dazzling-displays-focus-on-12833095.php#photo-15390589
---
Exhibition Review, June 6 2018:
From Canadian Art, a review of the exhibition, Supernatural: Art, Technology, and the Forest.
Including Leila Sujir's video work,
"Forest Breath"
https://canadianart.ca/reviews/into-the-woods/
---
Screening announcement, July 2018:
Leila Sujir's video work,
"Forest Breath: A portrait in progress"
will be shown at The Port Renfrew Elementary School on Sunday, August 12, 2018
announcement-ForestB-screening_20180812
---
Publication announcement, May 2018:
Leila Sujir's work is part of a new book publication from the Fotofest Biennial.
"INDIA: Contemporary Photographic and New Media Art,"
Fotofest and Schilt Publishing,  2018
http://www.e-flux.com/announcements/167958/india-contemporary-photographic-and-new-media-art/
---
Exhibition! May 17 – September 30, 2018
"Forest Breath"
at the Art Gallery of Greater Victoria, in a group exhibition, "Supernatural: Art, Technology, and the Forest".
https://aggv.ca/exhibits/supernatural-art-technology-and-the-forest/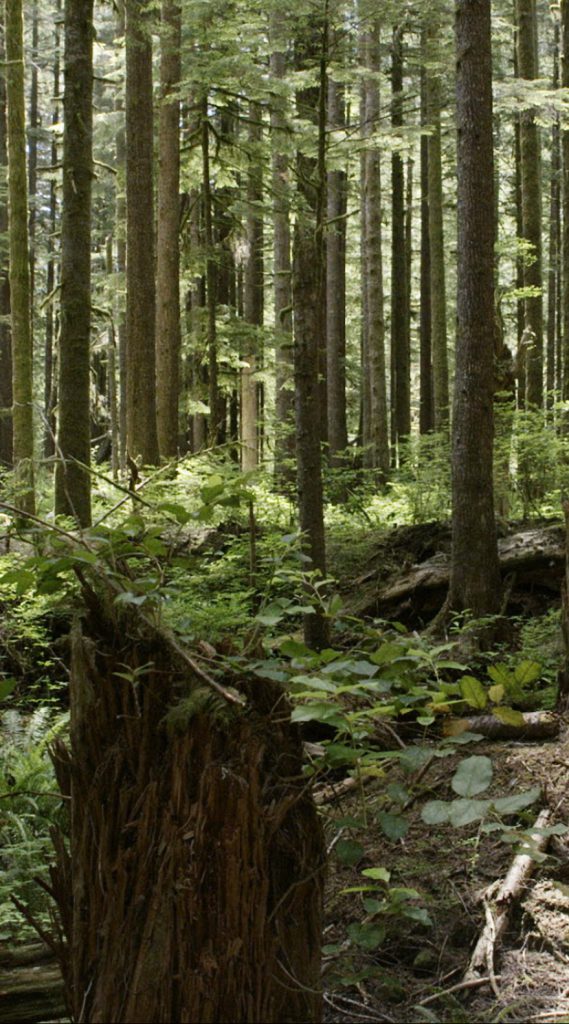 ---
"Aerial" will be shot this summer (2018) as part of the XL-Outer Worlds: a four-day Festival Celebration at the Cinesphere (Toronto's Ontario Place).
---
March 2018! Leila Sujir at FotoFest:

http://home.fotofest.org/2018biennial/default.aspx#.Wj0hGisTGaN
FotoFest International is pleased to announce the names of the 48 featured artists in the central exhibition for its upcoming FOTOFEST 2018 BIENNIAL
The FotoFest 2018 Biennial, March 10 – April 22, 2018, is dedicated to INDIA: Contemporary Photographic and New Media Art. FotoFest 2018 speaks to a number of contemporary issues in India including gender and sexuality, land rights conflict, the environment, human settlement and migration, and caste and class divisions. The participating artists are from India and the global Indian diaspora.
Organized by Lead Curator Sunil Gupta and FotoFest Executive Director Steven Evans, FotoFest 2018 will be one of the largest exhibitions of contemporary photography by artists of Indian origin to be presented in the United States. The artists were handpicked by Mr. Gupta and Mr. Evans while journeying through multiple cities in India and across the world.
Announcement, January 28, 2018
http://www.e-flux.com/announcements/167958/india-contemporary-photographic-and-new-media-art/
---
In research and production with the following projects:
Peacocks Dream, for exhibition at the Houston FotoFest Biennial: India — Contemporary Photography and New Media Art  (March – April 2018) http://home.fotofest.org/2018biennial/default.aspx#.Wj0hGisTGaN
Forest Breath, for exhibition at the Art Gallery of Greater Victoria (May – September 2018).
XL-Outer Worlds: a four-day Festival Celebration, Public Access Collective and True Frame Productions announce the launch of XL-Outer Worlds: a four-day Festival Celebration at the Cinesphere (Toronto's Ontario Place) which brings together ten curated programs of early IMAX films from the archives, and new expanded projections by Canada's leading artists Oliver Husain, Lisa Jackson, Kelly Richardson, Michael Snow, and Leila Sujir on the theme of "Outer Worlds." The commissioned program will also tour to four locations in Canada, and four international destinations where IMAX has had or is having a significant impact.
---
Screening: For Jackson: A Time Capsule, 2004 
Screening date at the Art Gallery of Greater Victoria: February 25, 2017, with Leila Sujir and Jackson Sujir present.
Video 49 minutes, Betacam SP landscape format (16 by 9 aspect ratio).
A documentary portrait of two Canadian women, Rosemary Brown (1930-2003) and Ruth Horricks-Sujir (b. 1925) which creates a time capsule for their young grandson, Jackson. By moving viewers through the geographies and journeys of these women's lives, Sujir uses landscapes as points of arrival and departure, and oceans as streams of stories.
---
Two new book projects have been released:
• from the Art Gallery of Windsor: Srimoyee Mitra (ed), Border Cultures, London, UK: Black Dog Publishing/Art Gallery of Windsor, 2016 [Tulipomania], 2016.
• from the Glenbow: Melanie Kjorlien (ed), Made in Calgary: An Exploration of Art from 1960 to the 2000's: Calgary, Alberta: Glenbow, 2016 [Tulipomania and My Two Grandmothers], 2016.