10 minutes, Stereoscopic 3D video lightbox with stereo audio (lightbox: 163.99 cm width, height 283.21, depth 62.5475)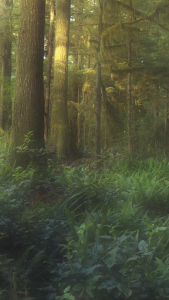 Forest Breath is a vertical slice of stereoscopic 3D video of the forest. Shot in June 2016, the video records particular moments in the forests around Port Renfrew, primarily in south Walbran, near Emerald Pool, as well as in the Red Creek Fir area, all in the traditional territories of the Pacheedaht people.
The video space has volume, a blur of colors, as it moves from one space of the forest to another. The space of the video, like the space of the forest, becomes a site of contemplation and research.
These forests drew me as a space of research and a space of healing.
These west coast forests are where my mother took me as a young twenty four year old, after an operation for cancer. I didn't die, to my surprise. The forest was where I found wonder and learned how to be alive again.
My aunt Manorama Savur's last major research project* which she talked extensively to me about was on the destruction of the bamboo forests of India and the resulting desertification as a result of the deforestation, two words which were and still are mysterious to me.
When I started the Forest Breath project, in June 2016, a  year  had almost passed since my mother had passed away, on my birthday, June 19; as a way of anticipating that strange collision, the  anniversary of her death and my birthday, I started this project in the forest.
*Manorama Savur, And the Bamboo Forests in the Indian Forests: What did the Pulp and Paper Industry do? Manohar Publishers, 2003.
Images of Forest Breath, 2018, stereoscopic 3D Video installation.