Tulipomania: My Two Grandmothers RMX, Day-old Venice, and Cycling outside Leiden, with Maria Lantin, 2006, 2013
Tulipomania: My Two Grandmothers RMX, Day-old Venice, and Cycling outside Leiden, with Maria Lantin, 2006, 2013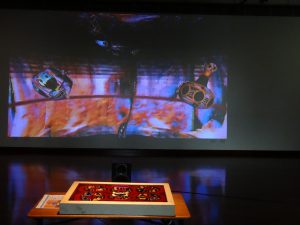 Video Installation (occupies 5 square meters).
Interactive 4-channel video projection, each channel wrapping a 3D object in a 31 minute cycle; video processing of vertical slices of real-time video onto a screen with virtual objects; no sound for 'My Two Grandmothers RMX'; surround sound for 'Day-old Venice' & 'Cycling outside Leiden'; a distressed antique table embedded with phidgets for interaction in first edition (1.2 meters long by .7 meters wide .7 meters high) or a small flying carpet with phidgets for interaction in second edition (.62 meters long by .44 meters wide by .08 meters high); one computer to run the real-time video processing, portable surround sound system of audio speakers, organza scrim.
Edition of two: a table interface or the flying carpet interface.

Alternate version: Video installation with Interactive S3D (stereographic) Projection (passive stereo), same as above but with a 3D projector and screen (screen dimensions: 2.7 meters wide, 1.5 meters high). Projector and screen provided.
Note: all elements are provided including an HD projector.
An interactive video projection with three worlds, Tulipomania references the trade routes of various time-frames, moving from the time of the land route to and from the "Orient" to the contemporary time of transfer of capital through global electronic markets.
The first world is a re-interpretation of Sujir's My Two Grandmothers (1991) multi-channel installation. Within this video mix of cultures and histories, Leila Sujir's grandmothers –Bernice McEwan Horricks and Ratna Kalle Sujir, who each worried about her being lost into the other's foreign culture, are brought together into an installation space of video textiles electronically woven into patterns composed of time and space Sujir shot in Calgary – Scotland and in various places in India while travelling with her cousins. She imagined her two grandmothers dancing in the space together — now they appear in space on a teapot that pours a pink stream of teapots, with objects signifying the everyday: a vintage plane, a spoon, a perfume bottle and a teapot.
The second and third worlds consist of objects including tulips, which travelled onto the trade routes from what is now western China to the Netherlands on the trade routes, and in Venice, the objects include a teapot, a vaporetto, a perfume bottle and a vintage plane. Raw sound and video from the city of Venice and from the tulip fields outside of Leiden, in the Netherlands, are wrapped around the object within electronically woven patterns.
The red line which appears as a marker of where the viewer is in time and space is part of an algorithm originally was used to scan massive amounts of video surveillance footage, re-purposed in this installation so that the attentiveness of surveillance is transformed into the concentration of making, through a drawing and painting performance instrument, giving the viewer another way to experience time and place. The red line also signifies borders, which have been placed, shifted and changed, these markers often the site of surveillance. We invite the viewer to move the line, thus altering the space and time of the work, along with the patterning; to change the shape of the line and think of space and place as constructed, contingent on geopolitical forces, ever changing, yet tied to the colours and sounds of a landscape, itself shaped by the people who leave their trace, and to contemplate the patterns they compose, with pattern as another way of creating home out of the everyday.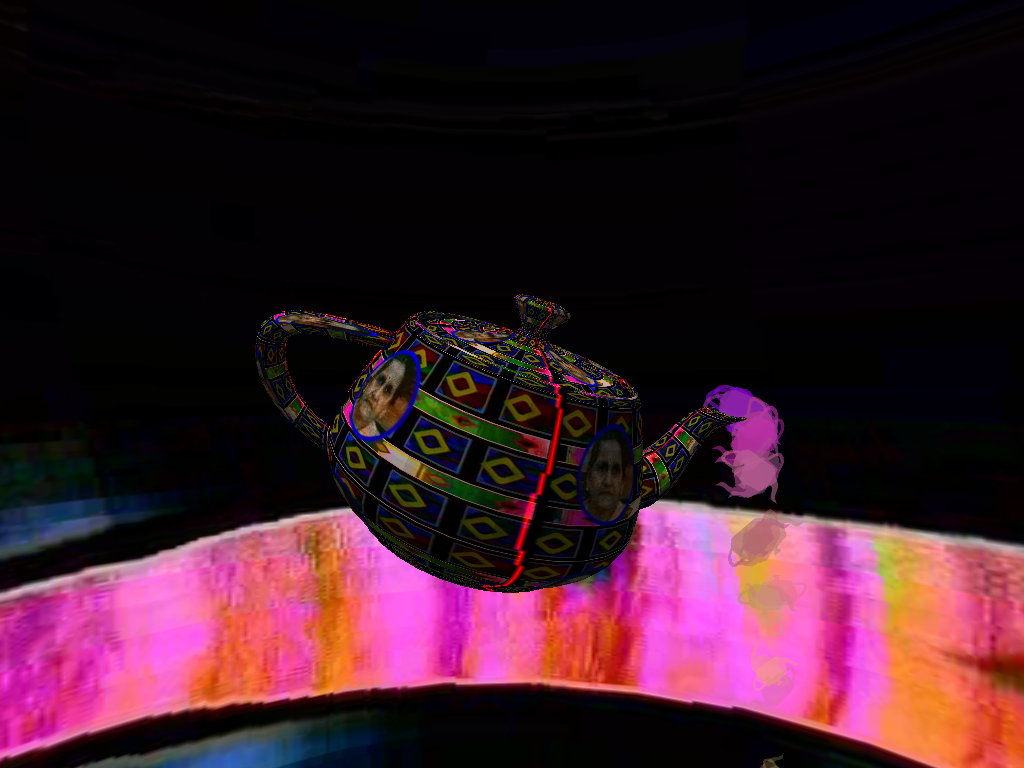 Tulipomania – screen capture of video object in installation projection, My Two Grandmothers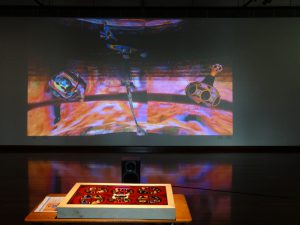 Tulipomania – installation projection with flying carpet interface for viewers to interact with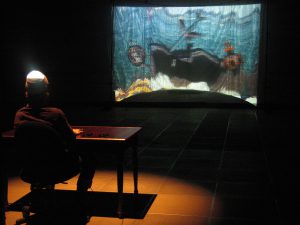 Installation view with table interface for viewer