9 minutes, 20 seconds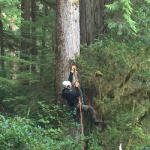 A west coast rain forest seen through a camera mounted on a drone, moving rapidly as if it were a humming bird: it hovers, then zigzags horizontally, then vertically. Spatial microphones mounted on a cablecam up in the tree canopy move across the Emerald Pool in the south Walbran, not far from the bridge. Four white embossed still forest landscapes extend the possibility of inner spaces, for us to step back into ourselves, to contemplate, and to engage with the memory, recording and healing process, while we view, together, this airborne sequence, exploring a forest.
In 2016, Leila Sujir began working with curator Haema Sivanesan and cinematographer Chris Kroitor on an expanded media work, "Forest!" in the south Walbran old growth forests on Vancouver Island. "Aerial" with XL curator Janine Marchessault and producer Chris Kroitor continues an exploration of those forests.