10 minutes, Stereoscopic 3D video installation, 2018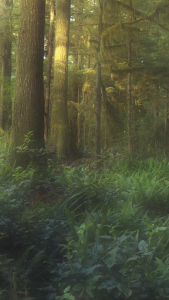 Forest Breath is a vertical slice of 8k stereoscopic 3D video of the forest. Shot in June 2016, the video records particular moments in the forests around Port Renfrew, primarily in the
south Walbran, near Emerald Pool, as well as in the Red Creek Fir area in the traditional territories of the Pacheedaht people.
The resolution of the video allows viewers to stand in a forest of moving pixels. The video space has volume, a blur of colors, as it moves from one space of the forest to another. The space of the video, like the space of the forest, becomes a site of contemplation and research.
The Art Gallery of Greater Victoria in the city of Victoria contains spaces of forests. With the support of the gallery, I have placed the forest here, in the wall of one of the galleries. It is an archive of the time and space in June 2016 when I did a preliminary shoot for the project, Forest Breath.
Closeby to Victoria, along the coast, is Port Renfrew, surrounded by old growth forests; the town, I am being told and have observed, is reinventing itself, no longer depending on what was formerly a resource based economy.
These forests drew me as a space of research and a space of healing.
These west coast forests are also where my mother took me as a young twenty four year old, after a serious operation for cancer. I didn't die, to my surprise. The forest was where I found wonder and learned how to be alive again.
My aunt Manorama Savur's last major research project* which she talked extensively to me about was on the destruction of the bamboo forests of India and the resulting desertification as a result of the deforestation, two words which were and still are mysterious to me.
When I started the Forest Breath project, in June 2016, a  year  had almost passed since my mother had passed away, on my birthday, June 19; as a way of anticipating that strange collision, the  anniversary of her death and my birthday, I started this project in the forest.
*Manorama Savur, And the Bamboo Forests in the Indian Forests: What did the Pulp and Paper Industry do? Manohar Publishers, 2003.
Artist: Leila Sujir
Technical Director: Jorge Zavagno
Cinematographer: Chris Kroitor
Camera Assistant: Andréann Cossette-Viau
Production Assistant: Jackson Sujir
Assistant Editor: Daniela Ortiz Sanchez Renero
Sound Recording: Leila Sujir & Jorge Zavagno
Sound Editor: Philippe Battikha
Images of Forest Breath, (2017-): work in progress, stereoscopic 3D Video installation.